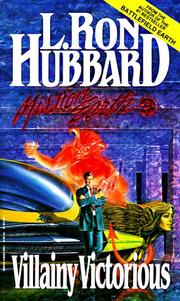 Villainy Victorious
, the penultimate book of L. Ron Hubbard's 10 Volume
Mission Earth
series begins with what are possibly the only true words
LRH
ever wrote.
"This bizarre, fallacious tale has not been made any more palatable by the introduction of a different narrator."
We agree.
Volume 8,
Disaster
introduced one Monte
Penwell
– an unpublished and untalented author – to continue the story of
Soltan
Gris,
Lombar
Hisst
,
Jettero
Heller and the
Voltarian
mission to Earth. Gris had been incarcerated,
Hisst
was taking over the
Voltarian
confederation, and
Jettero
Heller had escaped with the ailing and drug addicted emperor.
Penwell
prefaces the story but makes no further appearance.
Like the preceding 8 volumes,
Villainy Victorious
is a sprawling chaotic jumble with a lot of bile but little story. What narrative there is focuses on the exploits of the earthlings J. Walter Madison – a PR "genius" and
Teenie
Whopper – a teen-aged nymphomaniac.
Madison and Whopper proceed to infect pure and noble
Voltar
with the corruptions of Earth – psychology, psychiatry, drugs, perverse sex, public relations and advertising. Blah, blah, blah. This is the whole point of the Mission Earth series: to demonstrate in overwhelming and graphic detail the sickness and depravity of the planet Earth.
At one point early in the book,
Teenie
Whopper (who inexplicably came to be worshipped as a queen on
Voltar
) leads a "lecture" to instruct the prepubescent sons of Vol
tarian
nobles in how to become
catamites
and sex slaves.
Then with one light finger she touched a spot at the lower center of the boy's pubic hair. His eyes rolled up, his chin thrust forward, he gave an ecstatic groan.
HE (

BLEEPULTATED

)!
What the BLEEP? You ask.
This has been one of the running "jokes" in Mission Earth. According to a footnote in each of the books, the translating robots are forbidden to reproduce "cursing or lewd words." This is ironic because the books are filled with descriptions of all manner of vulgar and disgusting – lewd- activities. That some words are
BLEEPed
out only serves to heighten them.
It seems as if
LRH
took pleasure in describing the many and varied perversions of earth. He certainly lingered over each one of them in loving and painful detail.
Teenie

leaned over and touched his ear with her tongue.
ANOTHER (

BLEEPULATION

)!
The crowd went mad! (Villainy Victorious page 81)