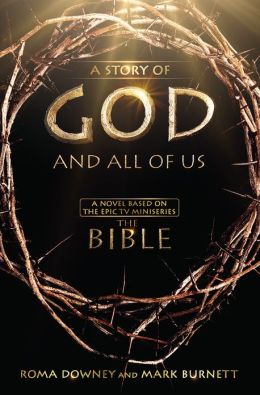 Are you kidding me? A novel based on the mini-series based on the book? I thought it was a joke, but it's not. It is A Story of God And All Of Us.

This is what I feared all along. The History channel's mini-series The Bible, produced by such Christian luminaries as Roma Downy and Mark Burnett is, at its heart, NOT about bringing people closer to the God of the bible, but bringing its producers closer to their god, Mammon.
If it were actually about The Bible, then they'd be pointing people towards the source.. you know... the Bible. Seems sorta' obvious to me.

-From a Review at Amazon.com:
"When I watched the first episode of the epic TV miniseries "The Bible," I remember thinking to myself, "This is spectacular, but what if I want to engage with these stories on a deeper level." After watching and re-watching the entire series, it still felt like something was missing...

Thank God for this book! Finally, all the stories from the Bible have been gathered into a single text!"
Oh good grief! God must sure like stupid people, because he made so many of them.